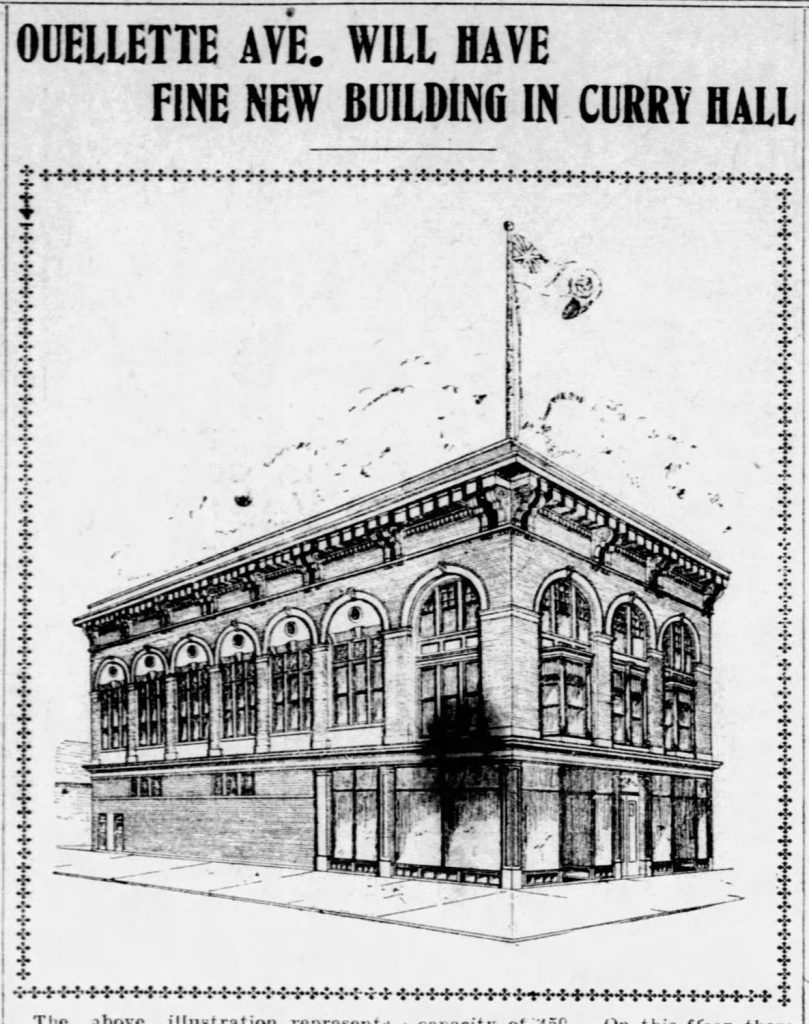 In 1904 plans were drawn up by the Williams Brother architects for John Curry. Curry planned to erect a new building at the south east corner of Ouellette & London (now University). The building was to be three floors in height, with two stores on the main floor, and a large hall and stage on the second floor along with parlor for ladies and gentlemen, along with restrooms. The third floor had a gallery overlooking the stage and main floor, and also contained kitchens and dining rooms.
Construction began late in 1904 / early 1905 and construction completed late in November, 1905. The inaugural performance was a concert put on by the ladies of All Saints' Church. Piano solos, vocal solos as well as a whistling solo by Miss Harriet Colwell were highlights the event held on Friday, November 24, 1905.
Curry Hall was built on what was then known as Ouellette Square and was used mainly as a parade ground for the adjacent armouries. South of Curry Hall, the Palace Theatre would be built and would open in 1920.
As time went on, around 1915, the building was sold and became known as Heintzman Hall, as the Piano firm Heintzman and Co Ltd moved in to the ground floor. Around 1938, a fourth floor was added and the upper floors were all converted into office and and the building was renamed the Heintzman Building. After a few years of being closed the demolition of the Palace, was announced in late 1985.
Early in 1986 it was announced that the former Heintzman Building, now known as the Morris Building, has been purchased by Chuck Mady, who already owned the Palace building. With the acquisition of the building on the corner it was announced that the site would be redeveloped, and that both building would be demolished, and replaced with the new Palace Complex, which was last used as the Windsor Star newsroom.