A recent question from a reader brought up the subject of Devonshire Racetrack.
As Windsor tries to shed its "sin city" moniker, a look back at our history shows we've always been the playground for what the Americans can't have. There was a time when Windsor boasted 3 Horse racing tracks. The Windsor Jockey Club, Kenilworth Racetrack, and Devonshire Racetrack.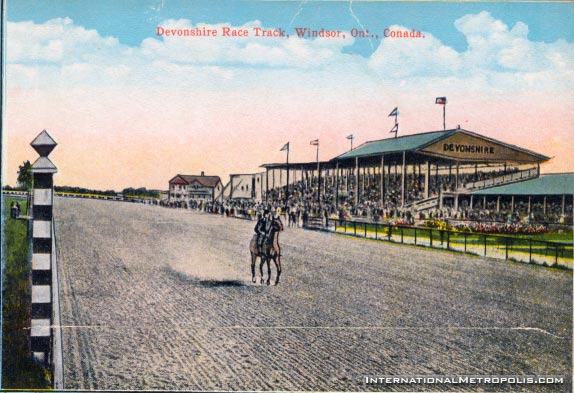 Horse racing was once illegal in Michigan, and as a result, Windsor cashed in on what our neighbours to the north couldn't get at home. The postcard of the racetrack above dates to about 1927.
Photo from the DTE Energy collection @ Wayne State University

This aerial view shows the ghost of Devonshire Racetrack in 1967, on a site that would soon see construction erect our illustrious Devonshire Mall. How original of a name. Look across Howard Ave, and you'll see the old Roundhouse, which gave way to the equally imaginatively named Roundhouse Centre.
I'm not sure when the track operated, but I know it outlived the Jockey Club, that gave way to Jackson Park in 1930. Once Michigan legalized Horce Racing, our industry went in the crapper. You would think that after all these years we would learn to stop relying on our Northern neighbours so much…