Inspired by dFUNK's excellent 5 part series last week on the Fisher Building , IM.com proudly presents The building we didn't get…
Coming from the mind of Albert Kahn, the Fisher building was built for the Fisher Brothers of "Body by Fisher" fame. The building was built in 1929, and was only phase one, of what was to be a three part project.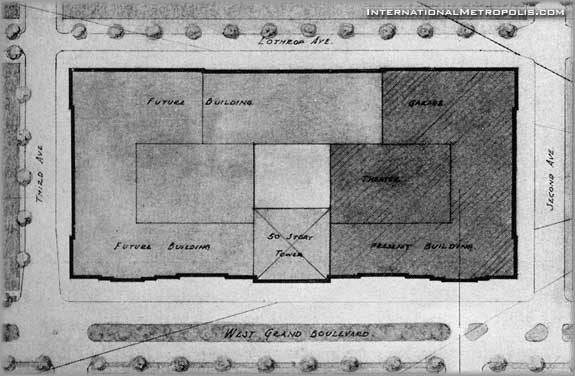 The project was supposed to cover the entire block between Second and Third.
This preliminary drawing shows the massing of the finished project. The office tower and theater that was built is on the right, a duplicate building was to be erected on the left, tied in together by a central 50 story tower. The depression killed this project.
Kahn worked on many different secenarios for the building. Some rough sketches, some excellent deliniations. Below are 14 proposals for the Fisher.
There was also serious work put into the front doorway. Below is a progression of sketches throught to the final doorway.
The Fisher Building is one of Albert Kahn's greatest buildings and one of the finest architectural projects of the 1920's. If you've never been inside, next time you're in the area drop in, it's worth the visit.