This plant at Kildare and Munsee, was known as Border Cities Industires, and was a subsidiary of G.M. through the end of WWII. The building was owned by the government, but run by GM.
I'm not certain when this plant was built, but I have a record for a plant built by General Motors in 1942, that was designed by Toronto architects Allward and Gouinlock, who also desgined the Guaranaty Trust (TD Bank) at Univesrsity and Victoria in 1948. I'm still working on confirming if this is the same plant. I've confirmed this is the plant, with Robert Hill looks like a date of construction of 1939.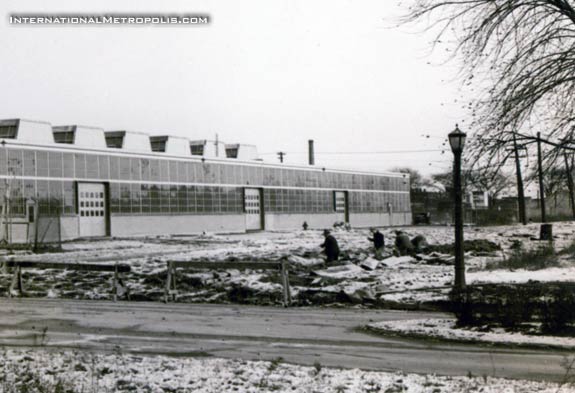 There are a few interesting things about this photo… One is the dudes digging something by hand along where Munsee is today…
I like the ladder for changing/working on the light fixture on the pole.
There's a truck in the dock, and notice the barricades, marked "Woollatt". Woollatt Construction was a long time Walkerville company, in fact William Woollatt served as vice-president of the Essex Terminal Railway in the 1920's and 1930's. The plant was very modern for the time, it reminds me of an Albert Kahn design with all the glass…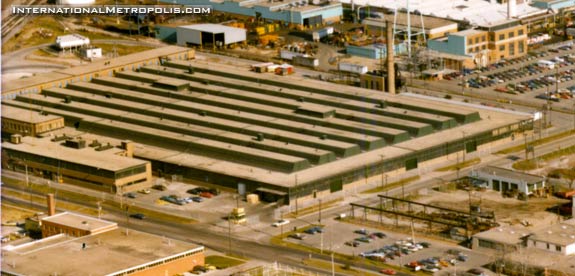 An aerial view of the plant from the late 1970's- early 1980's… In 1946 at the end of the war the S.W.& A. purchased the building for $750,000 from the War Assets Board for use as a bus garage. The S.W. & A. (the forerunners of today's Transit Windsor) then leased some of the space back to General Motors. There was an uproar at the time that the building should be kept for industrial use, and that use as a garage wasn't appropriate. After the S.W. & A. accquired the propertry, it was then that the workers shifted from the car barns at University and Wellington to Kildare Road.
During WWII, the plant managed by G.M. made Browning Machine Guns for the war effort, and there is/was a top secret shooting range in the basement. In the early 1980's G.M. reacquired the property, and in 1982, it was re-clad along with the entire facility on both sides of Walker Road to give it a uniform look.
Despite being covered up the building is still there, and when you drive down Kildare Road next time, take a look at the roofline, you'll notice the south west corner of the plant still has the same look as in the photo above (mostly hidden by the trees! Sorry!).