A few weeks ago we took a look at 331 Ouellette which was once home the Red Robin Store.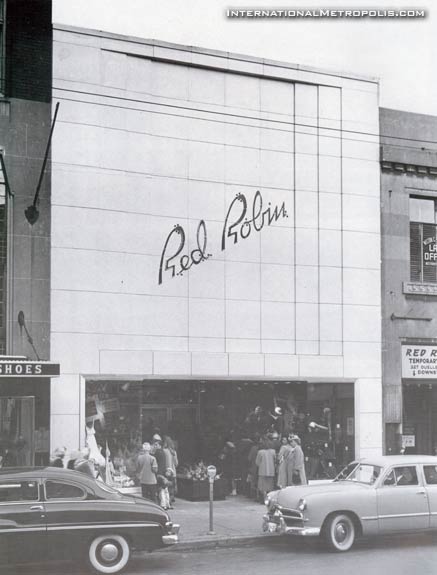 The photo above appeared in the Gladstone-White Book "A Moment in Time", so it likely came from either the Windsor Archives or the Museum, as most of his uncredited photos did… However like the train station interior the other day it looks like it is the same photo that ran in the newspaper the day after the opening of the store.
The store opened to the puiblic Thursday, September 1, 1949. The building is a renovation of an earlier 1920's era building. The store was started in 1936, a few buildings north on Ouellette by Samuel Schwartz. At the time of the re-opening at the new location in 1949 it was the largest Women's and Children's store in the city.
There was a basement annex, which acted as a bargain section, selling old stock, etc… This spread through the entire basement, and the basement of the neighbouring Paramount Building.
A photo of the interior of shop ran in the September 2, 1949 issue of the Windsor Daily Star.
The new Red Robin Store, 331 Ouellette Avenue, with three air-conditioned floors, is the largest in Windsor devoted exclusively to women's and children's wearing apparel. It has been designed with every thought and consideration given to the comfort and pleasure of its patrons. Interior decoration varies on each floor and department, presenting a distinctive atmosphere. The modern building front of the store is composed of enameled steel backed with concrete and is the last word in commercial building construction. The top picture shows an interior view of the ground floor.
The building front was designed by G.A. McElroy's office, by an architect named Thomas I. Gemmell. This is the first reference I've ever come across with his name.
_____________________________________________________________________________