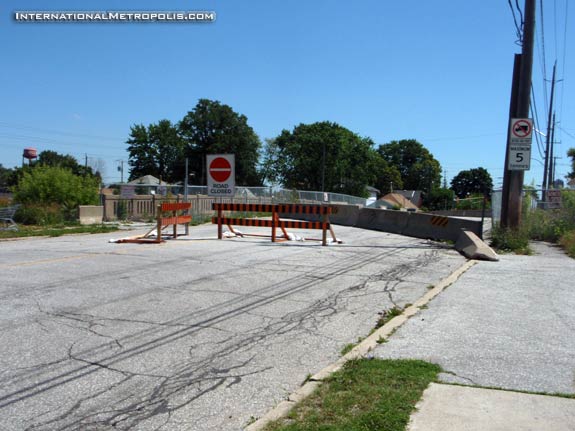 After only 80 years of service (most of it with obviously little maintenance) the College Avenue Bridge's days are numbered. Built in 1927 (and crumbling for years) so that the streetcar could run west along College (then called Field Ave.) over the Michigan Central Rail Cut. It was closed by the city and is today only accessible on foot or on a bike.
Huge chunks of the bridge are crumbling away on the railings…
…and on the sidewalks.
Chain link fencing was erected, closing the sidewalks off to pedestrians, who are now routed across the roadway.
A view of the bridge over the tracks leading to the rail tunnel.
The photo above ran in the Border Cities Star, October 7, 1927:
The Span shown above crosses the Michigan Central tunnel approach at a point where Field avenue is to be cut through when the necessary formalities for taking over a number of houses now standing on the proposed street extension are completed.

The bridge is done entirely in reinforced concrete, and plans for it were drawn by the Hydro Electric Power Commission of Ontario, the contractor being Ernest Clark.

It will carry a double track trolley line, a wide roadway and two sidewalks, and will, when the street is cut through to Wellington Avenue, afford an outlet to a rapidly developing section of Windsor lying south of Wyandotte Street and west of the M.C.R. tracks.
A great example of what happens when cities neglect infastructure.