A while back I got an email from a reader who wanted to know a little something about the Canadian Bridge Company, another part of Windsor Industrial Heritage.

From the collection of Chris Edwards
The first batch of photos comes from the collection of Chris Edwards. Chris put together an exhibition on the Windsor works of Albert Kahn at the Art Gallery of Windsor, at the same time as my Windsor Modern Exhibition.
The building shown above was built in 1907, and was located on Walker Road. Today the Government Office (Immigration?) occupies the site.

From the collection of Chris Edwards
It was a nice looking structure, it almost reminds me of a school.

From the collection of Chris Edwards
In 1913, the office was expanded and another floor was added to the top of the building.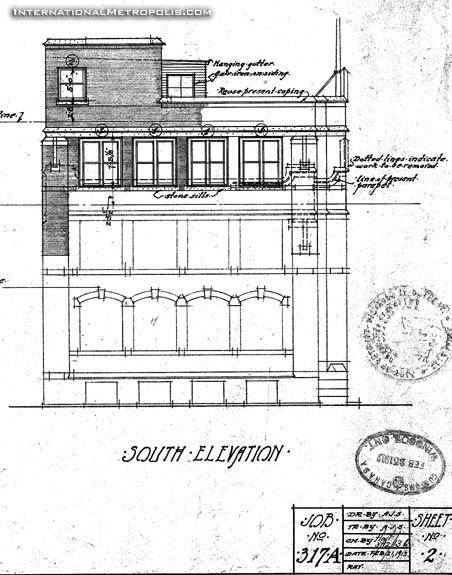 From the collection of Chris Edwards
You can see on these plans see the Customs Clearance stamp. Oddly the plans are dated, Feb. 21, 1913. While the customs stamp reads Feb. 25, 1912. Don't tell me they were using a stamp with the wrong year on it for the first two months of 1913!
🙂

From the collection of Chris Edwards
As you can see the level of detail on the plans are outstanding. I could look at old blueprints for hours… They give you a great sense of the building as it was.
Above is a view of the Canadian Bridge Company from 1913. The company later became a division of the Dominion Steel and Coal Corportation which was dissolved in 1962 by Hawker Siddeley.
If you drive down St. Luke Street today, there are still parts of the plant still remaining in unaltered states.
My favourite parts are the massive steel overhead cranes in the yard.
Impressive parts of our industrial past. Anyone know if they are still used for anything?
The plant today is occupied by Valco Manufacturing, a division of Valliant Machine.
In Googling the Canadian Bridge Company, I came across a few interesting things:
The company, built the superstructure for the High Level Bridge in Edmonton
The historic St. Louis Bridge in St. Louis, Saskatchewan
The 1.6 km long High Level Bridge in Lethbridge, Alberta.
The company even got it's own page on Structurae.de a online bridge and structure database from Germany.
And finally the one I found most interesting, the biography of Cornelius Langston Henderson, who was a design engineer for the Canadian Bridge Company from 1911 until 1958. Mr. Henderson graduated from the University of Michigan with a degree in Civil Engineering in 1911. He was only the second African American to earn a Civil Engineer. Mr. Henderson unable to find work anywhere in the USA, found employment in Walkerville. He was a key engineer on both the Ambassador Bridge and Detroit Windsor Tunnel projects.
Anyone out there have any relatives who worked there? Anyone know when it closed?