Victoria Day, 1906 was set to be a big day in Windsor. It was five years since Victoria had passed, and there was a big day planned:

Including the unveiling of the new Memorial Fountain on Pitt St. in front of the Post Office.
The monument was designed by Architect John Scott of Detroit, with the bronze tablet having been done by one of Canada's most important sculptors Walter S. Allward. Allward's bronzes decorate Parliament Hill in Ottawa as well as Queen's Park in Toronto. However Allward is best known for his contributions on the other side of the Atlantic. His biggest commission came when he was chosen to design the monument at Vimy Ridge in northern France.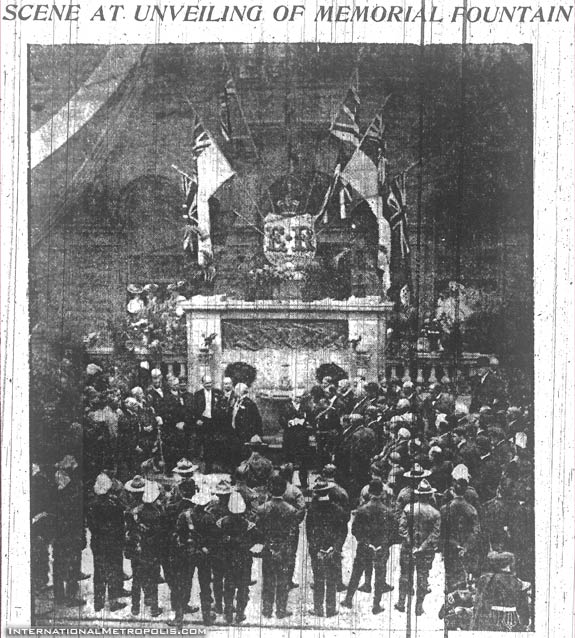 The Windsor Record reported on May 25, 1906. The photo to the left ran along with the following caption:
This portrait was taken from the Laing Building during the fountain ceremony showing the decorations, the speakers and the veterans facing the fountain.
The Minister of Militia and Defence at the time Sir Frederick Borden was the Government Representative who came down for the unveiling. He accepted the gift of the fountain from the people of Windsor on behalf of the Department of Public Works.
He stated according to the newspaper reports:
"The Dominion of Canada was glad to take over this fountain and maintain it as the people of Windsor desired"
I wonder how and when the Government gave up being responsible for the maintenance? I wonder if they actually still are some how responsible or if the City took over responsibility in 1930, when they moved it to Jackson Park.
On all accounts over 5,000 people crammed into Downtown Windsor to witness the unveiling of the Memorial Fountain, and one of Canada's preeminent sculptors was hired to do the bronze panel.
It's a shame it doesn't receive the respect today, that it did 102 years ago.