While today's photo isn't either Windsor or Detroit, I thought that many of this Blog's readers might find it interesting. The first two photos came my way from regular reader Douglasm, who sent along the following information:
A friend of mine sent this to me. In the 1960's, the Michigan Railroad Club ran excursions all over southeastern Ontario using CN 6167 and CN 6218, and on the GTW in southeastern Michigan using Dick Jensen's ex-GTW 4-6-2 #5629, the aforementioned 6218 and ex Reading 4-8-4 2124. Alas, in my many moves over the past 40 years most of my pictures have been lost, but this brings back memories. I was on this 1963 trip.
The photos are from Watford, which if you're unfamiliar with the area is about 15-20 minutes east of Sarnia along the 402 Highway.
This was the view of the Watford Station in May of 1963. This photo was taken by Jackson, MI resident Doug Leffler.
A follow up shot was taken by Lapeer, MI resident Charlie Whipp in 1982.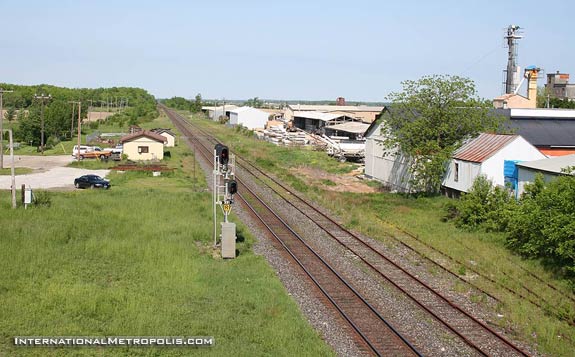 So the question came down the pipe, does anyone have a current view? Above is a recent shot from the same vantage point. Sadly everything from the station to the Grain Elevator has been lost since 1982. Interesting snapshots in time, none the less.
Thanks to Doug, Charlie and DouglasM for the photos, and permission to post them.
We now return to your regular scheduled photos…