Section "A" on the map:
Steve Oppenheim, Kurt Rheinfurth (Smith, Hinchman & Grylls) Richard Wolff (Geer Associates)

RIVERGATE

Inspection of the site revealed that removal of existing structures presented major problems only in the case of the railroad and grain facilities. A preliminary study indicated that the cost of bridg¬ing over the railroad was incompatible with land values in the area and this approach was abandoned. Without relocation of the railroad no attempt could be made to exploit the potential of the site.

Direct access to the Detroit River then became the key feature of the development for a modern residential area with high-rise apartments, a yacht basin and boat spaces.

Three groups of buildings were arrived at: residential, recreational, and offices. In order to bring about a closer connection between the buildings and the river, a large part of the area was excavated, permitting the river to form a lagoon, and thereby creating an artificial island which could house the recreational facilities. Utilizing a thirty foot drop in grade between E. Jefferson and the river, about 250 spaces for yachts could be ac¬commodated. The composition of the high-rise

buildings was arranged to be open toward the river, forming a pleasant sequence of space con¬nected to the Civic Center, and closed off by the tall building at the east end.

The four apartment towers and the motel-boatel are elevated, permitting a direct view of the river, both from E. Jefferson and from the pedestrian level under these buildings. A wide pedestrian mall connects the buildings and pedestrian bridges; a monorail connects to the island.

The apartment towers would contain a total of 250 apartments with direct elevator service to underground boat and car parking facilities. Access by car to the motel-boatel would be direct to the rooms over a spiral ramp; by boat, direct from the water level boat garage with elevators.

The island is conceived as a large indoor-outdoor recreational area. Boat harbor and boat rental area are located all along the terraced shoreline. Excursion boats dock here also.

The circular building houses a restaurant and indoor skating rink. On the northern part of the island an outdoor pool is provided for aqua-shows and sport events.
The third group of buildings contains office facilities. In the fourteen-story structure space has been provided for 350,000 sq. ft. of office area, plus 600 efficiency apartments. This arrangement permits out-of-town businessmen, who are retaining representatives in Detroit, to provide office space in close connection with living quarters.

Moreover, it is believed that such a relationship of office and small apartment would be welcomed by many people working in offices.

Underground parking is provided for 4,000 cars with entrance and exit ramps linking directly with expressway. Escalators lead to railroad and pedestrian walks on ground level.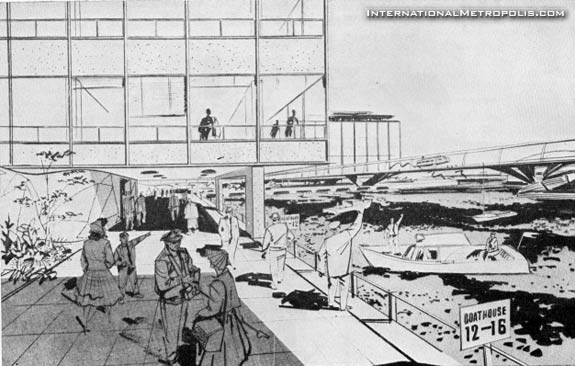 View towards the west
View towards the east