Here's a tour I've had on my hard drive for a while. I've been meaning to post this one for a while, but haven't been able to find the time to sort though all the photos. This week will be tour week, as I clear though my hard drive and post some photos, I've been meaning to for a while.
When I was preparing for my exhibition last fall at the Art Gallery of Windsor, I had the opportunity to visit Huron Lodge before it was demolished. The photo above might look familiar to some, as it was in the exhibition and it also graced the front of my book Windsor Modern (if you haven't got a copy, pick up a copy today, it makes a great gift!)
The front of the building looks forlorn, and shabby, after almost a year of vacancy.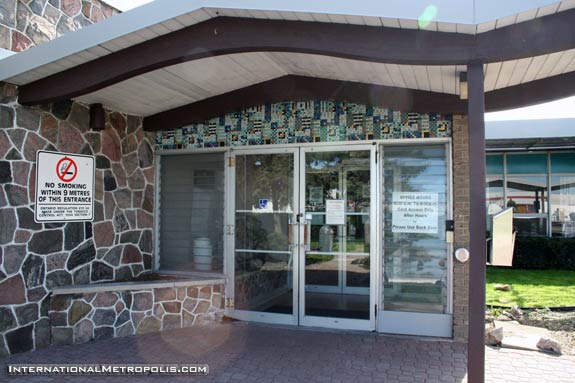 There was some tile work along the front wall, as well as over the door.
Here is a detail shot of the tile work…
The building is interesting with its rounded lines. It beats the monotony of the square or rectangular boxes that are built today.
A view from the rear of the area in the photo above.
A view of the pierced masonry brickwork that runs along the outside of the piers.
Another view form a different angle.
Inside the building was a rendering of the first phase of construction from architects J.P. Thomson, entitled "Windsor Home for the Aged". Hopefully it was salvaged prior to demolition.
Looking toward the rear exit.
A social area of some sort, almost looks like a cafeteria?
The front waiting room, reception area.
The plaque on the wall for the first phase of the building in 1960.
The plaque for phase II from 1967.
A view of the chapel.
A stage in one of the common areas.
A very old photo of the Queen.
These clocks were everywhere in the corridors. There was at least 50 of them. Not sure if they were salvaged either.
A view of a typical room.
A typical corridor view.
In the basement, I came across the laundry room.
An unknown room of some sort…
A beauty salon/barber shop.
This diploma from the Ontario College of Art from 1932 hung on a wall in the basement.
A staff lunchroom perhaps?
The "cedar room". Like a sauna without the heat. I couldn't figure out what the cedar room was for? Moth proof storage maybe?
Stay tuned for a another visit somewhere tomorrow…