The former Home Bank building at Wyandotte and Windermere is one of my favourite buildings in Walkerville, and the western anchor of what is perhaps our best looking and most intact historic commercial block.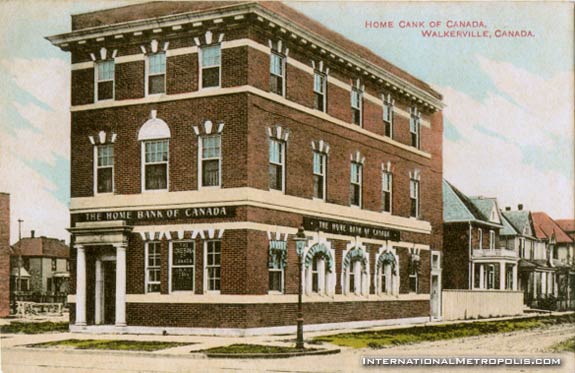 This postcard view is from Walkerville Publishing's Postcards From The Past. A great book, if you don't have a copy, it really is a must have for history fans.
This view above is from 1913. The building was built in 1907-08 and designed by noted Toronto architects Henry Sproat and Ernest Rolph. It is as far as I know their only Windsor Commission.
For my Toronto readers and for anyone else familiar with Toronto, some of their more notable designs include, Hart House and the Soldiers Tower at the U of T; The Arts and Letters Club; The Canada Life Building on University Ave and the Royal Canadian Yacht Club Clubhouse on the Toronto Island.
As you can see in the current photo, somewhere along the lines the building grew. The older photos show the connecting section was built in the original construction, and the fence around the southern end of the property indicate that they always intended to expand, I'm just not sure when it grew.
The 1937 Map shows the expanded building in place, with a Woolworth's on the ground floor. So sometime between 1913 and 1937 the building expanded, I'm going to guess it was probably following WWI.
From all account that I hear, the apartments are great, and it's a great place to live.