Over on Windsor's west side, there is an impending demolition brewing.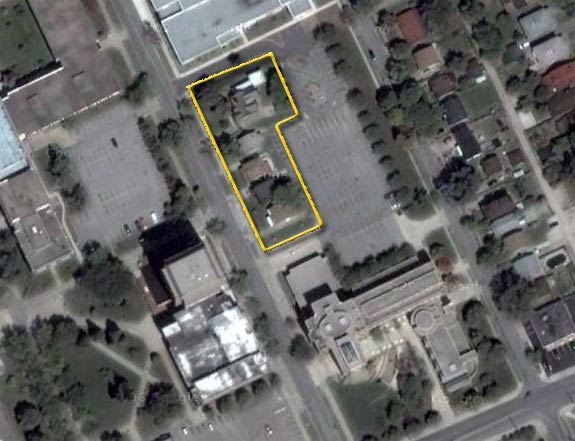 On Sunset Avenue there is a small grouping of five houses. A small remnant of of how the area once looked before the University of Windsor Moved in. Many other Universities seem to have a habit of including existing structures in the area into the campus.
However, not the University of Windsor. Their first love is surface parking lots. A quick look as evidenced by map above shows 20 surface lots in the immediate vicinity of the University.
How many parking garages you ask? Oh, that's easy, none. The U of W would rather destroy the vibrancy and urban feel of the surrounding neighborhood rather than build a garage.
So seeing as there is so little vacant land available, the University feels it necessary to demolish these five house to build a new school building. Bye-bye streetscape, hello junk architecture. For what it's worth, I haven't seen a rendering of the new building, but if it looks anything like any of the other uninspired buildings the University has built in the last 10-15 years, I'm sure it will be hideous.
The 5 houses scheduled for demolition span a broad range of Architectural Styles from about 1920-1950. One of which is a listed building on the City's listing of Properties of Historical Interest.
So U of W alumnus, wave good bye to the grad house, and to the Tudor style house it sits in. Swing by for one last drink before it's gone forever. Its days are numbered, and when the Alumni Group tries to hit you up for money, tell them to build a parking garage.