As it appeared in the mid 1940's. Photo above from the Bernie Drouillard Collection.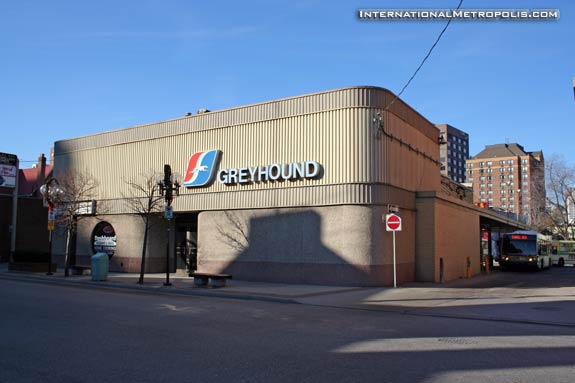 The Windsor Greyhound Terminal, 2006.
Completed in May, 1940, the Windsor terminal was shared between Greyhound of Canada and the S.W & A railway, the forerunner of Transit Windsor. The terminal was designed by the frim of Bonfield and Cumming, who also designed the Kalamazoo station as well as the Ann Arbor depot. Sometime in the 70's or 80's it was decided that metal cladding and stuccoing over the limestone and black grante facade was a good idea, and we recieved the mess that we have today fronting University Avenue. Only by going to the rear can some of the unaltered Streamlined design still be seen.
The new transit terminal is currently under construction a few blocks west, and scheduled for a spring opening. Expect this building to get hit by the bulldozers as well.
The lack of reuse/vision in this city is really tiring.