So yeah… I drove from Tecumseh, MI to Ypsi-tucky the other day. Here are the "highlights".
Thanks Google Maps for picking a "different" route.
The Water tower at a factory south of Tecumseh.
V.F.W. hall in Tecumseh
A Rustosaurus.
Al Meyers Airport.
From the Michigan Marker out front:
The Al Meyers Airport is a privately owned airport designed for public use. It was established in 1939 -40 by a twenty-seven-year-old airman, designer and manufacturer, Al Meyers (1908 – 1976). When World War II broke out, Meyers received a contract to build planes for pilot training under the Civilian Pilot Training Program. He selected Tecumseh for his production site. His government contract ended just prior to the close of the war; however, he continued to manufacture planes for private use until 1966. This field, originally the Tecumseh Municipal Airport, was renamed Al Meyers Airport in 1975. The airport is still privately owned and is used for transporting manufactured goods and for the restoration of all types of airplanes, especially the Meyers plane.
However, it still doesn't explain how or why there is a DC-8 cockpit there. The best part? There's not only this one, there's another one too…
Drving down the Macon "Highway". Seriously, check #5 in the Google map screenshot above…
Somewhere rural.
Safe at Willow Run Airport in Ypsilanti. A stripped Boeing 727, still sporting the American Airlines registration number.
A mighty McDonnel-Douglas DC-8
As I was shooting the DC-8, I heard a rumble over head, just in time to see the Yankee Air Museum's B-17 take to the skies.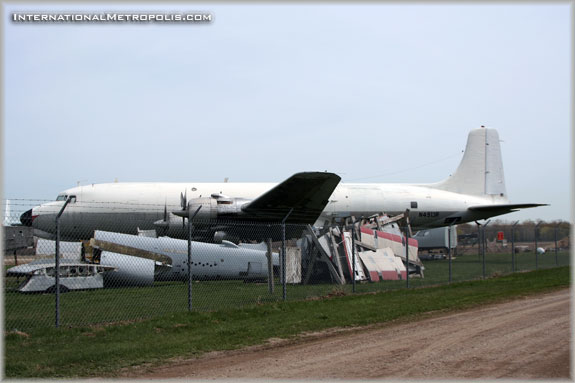 On the other side of the airport is this old DC-6. This one was built in 1956. It used to belong to Alitalia way back when, and later Zantop International Airlines. It is now part of the Yankee Air Museum's collection.
Some of the older WWII era building on the west side of the airport.
Have a good weekend everyone, see you all on Monday.