One of the great old steam ships that used to sail the great lakes was the S.S. Hamonic. The Hamonic and her sister ship were owned by the Northern Navigation Company.
All of the photos below were kindly scanned and donated from the collection of Thomas R. Anderson II.
The steamer Hamonic heading south on the St. Clair River towards Detroit, passing under the Blue Water Bridge
Another shot of the Hamonic. This sporting the dual titles of both the Northern Navigation Company & Canada Steamship Lines.
The business card of T.R. Anderson, Purser of the Hamonic.
A view of the main dining room on the S.S. Hamonic.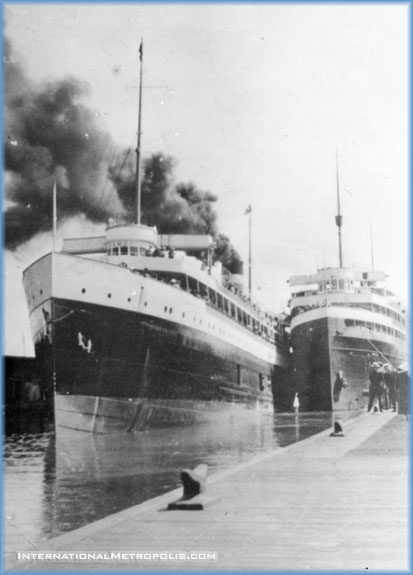 A photo of two of the three sister ships of the Northern Navigation Company, The Hamonic (on the left), the Noronic (on the right) and the Huronic (not pictured). The Noronic burned in her berth in Toronto in 1949, with the loss of 118 souls. The Hamonic burned at Point Edward in her berth in 1945. However due to the quick reaction of her heroic Captain, there were no fatalities. The Huronic ran aground in 1928, was refloated and converted to cargo use in 1930's, and was scrapped at Hamilton in 1950.