Many readers will no doubt recognize this building at the north west corner of Ottawa & Kildare in Walkerville. This was as far as I can remember one of the first buildings to get "the treatment".
On this post from June, an "expert" chimed in his opinion that said:
RANDALL
June 23, 2009 at 2:05 pm (Edit)
well your all jealous EIFS stucco systems add +R18 to the Established R value ( Usually R-12) I T Holds up in all weather, has a life expectancey of 80yrs comes in imasco or Acrylic (740ish colors) only old rock dash is ugly but even the ugliest stucco is safer than any other exterior system with exception to Brick work check with your Local F.D. .. odds are you clowns are siding guts lol siding is being fazed out due to poor fire suppression. a well done concentional stucco application will still keep the walls tanding after a fire, siding?, No.
Well, I'm not sure how long ago "the treatment" happened, maybe 15 years or so? Certainly not 80.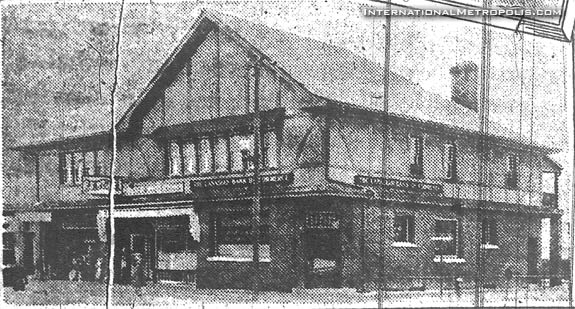 Here's how the building looked in 1926 in an ad for the Canadian Bank of Commerce who occupied the ground floor.
It's sad, it was once a handsome building.