Once again a huge thank you to Bernie & John for digging into Bernie's collection and coming up with a pair of beauties.
Both these photos were shot by Bernie Drouillard in the spring of 1991 as the Aquarama sat rusting away in the west end.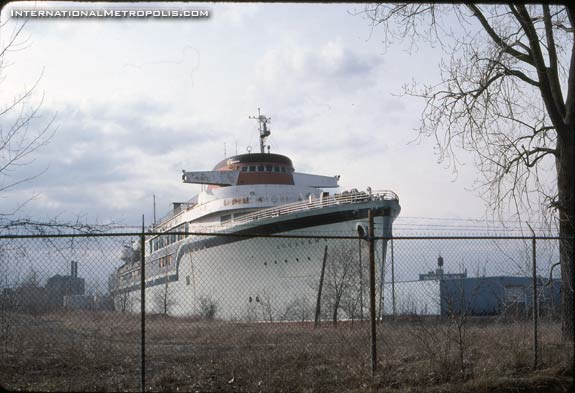 March 23, 1991
April 1, 1991
The most amazing thing about the Aquarama is the description in the 2007 volume of "Know Your Ships"
It was officially known as the Marine Star (her orininal name) and owned by Empire Cruise Lines of St. Thomas, ON.
The descrption reads:
Last operated in 1962; laid up at Lackawanna, NY (USNS Marine Star '45-'55, Aquarama '55-'94)
When she was scrapped in November she was 62 years old, but hadn't sailed carrying passengers in 45 years! She spent more than 2.5 times longer laid up than she did in serivce. At the time of her scrapping she was worth more than $1,000,000 in scrap steel.
—————————————————————————–
Also – If you're not busy tonight come on down to the March Windsor-Essex Blogger Meet up.
Wed March 19th
Milk Coffee Bar, 68 University Avenue West
7:00 pm
If you a blogger, a commenter, a reader, whatever… Come on down and join us.