Continuing to make our south along Ouellette… The Park Building is quite possibly the worst and most un-needed stucco job on the strip. The person responsible needs to really give their head a shake…
Stuccoed and vacant…
A detail shot shows how marked up and chipped the cladding is. Looks like crap IMO.
More vacancy along the Ouellette side…
Uncleared sidewalks. There is no excuse for this. The major snowfall occured on Tuesday night/Wednesday day. On Sunday the sidewalks are packed and still snow covered. SHAME!
Yup. Rub n' tug.
Vacant.
Yup, vacant too… What's with the mess of paper taped up in the window? Looks junky.
What is brought to us by the DWBIA? The vacancy?
"We want U" – and you're not getting it! Please take down the garish lime green posters.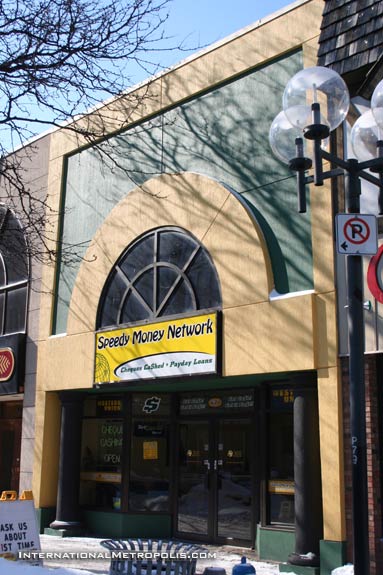 Stucco and a cheque cashing place… A sure sign of a vibrant downtown.
More sleaze.
If you don't feel like a Shawarma, you can always go next door and grab… uh, … a Shawarma.
Lazare's tries to evolve and reinvent themselves. The facade looks nude without the "FURS" at the top.
At least the classic neon sign remains along the Maiden Lane side.