Recently news came out that the two properties at 801 and 819 Ouellette were sold, and are being prepared for demolition.
I went out and shot them the other day, the buildings are probably best remeberd as Joker's Bar and Mother's Pizza. I figured the Joker's building was from the 1930's with the Mother's building a fair bit older…
Needless to say, I was shocked to discover that neither were present on the last fire insurance map, meaning they both came later than 1937.
So off to the Library I went to go digging through old directories.
The former Mother's Pizza building at 819 Ouellette was built in 1939.
It was home to an A&P Grocery Store from 1940 – 1975. The building is shown as vacant in 1976, and as Mother's from 1977 – 1992. The 1993 directory shows the buiding as vacant, which it has been ever since. As for A & P closing, I think the A & P on Goyeau opened around 1975, so the store likely moved to a new space on the former Patterson Secondary Site, rather than closing. Today it is a Food Basics.
A & P 1940 – 1975
Vacant – 1976
Mother's – 1977 – 1992
Vacant – 1993 – 2007
The building at 801 Ouellette was built sometime between 1953-1957. When I was at the library the directories from 53-57 were missing. There was nothing in the 52 directory and the building was listed in the 58 guide.
It was built as the Archibald Rose Furniture Company. They moved from a location on Sandwich St. This might have been when building were being cleared on the north side of Ouellette Ave. for Dieppe Park. c. 1954-55. In the mid 60's (more missing directories) it became a Leon's Furniture store (maybe Rose was bough out?), Then a Mac's before becoming Jokers.
A. Rose Furniture – c. 1955 – c 1966
Leon's Furniture – c. 1966 – 1984
Mac's Convienience 1984 – 1991
Vacant – 1992
Joker's 1993 – 2005 ?
Club 801 – 2006 – 2007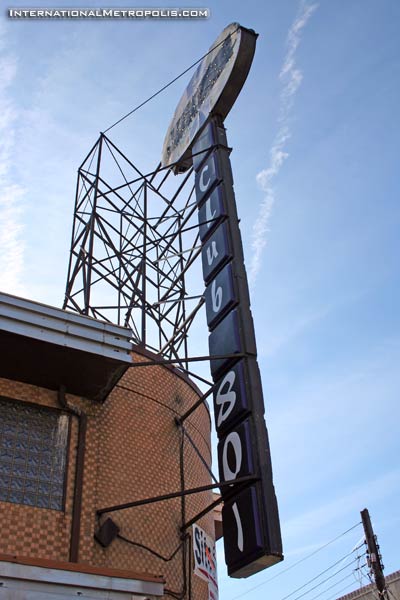 The pictures speak for themselves, but it's a rather handsome structure. Great brickwork too. It will be a huge loss to the downtown streetscape. More loss of density.
A HDR shot of the former A&P/Mother's Building at 819 Ouellette.
A HDR shot of the former Joker's building at 801 Ouellette.