Last November the Windsor Star ran an article about a new office building that was going to be built on the former Central Chrysler parking lot at Elliot and Goyeau.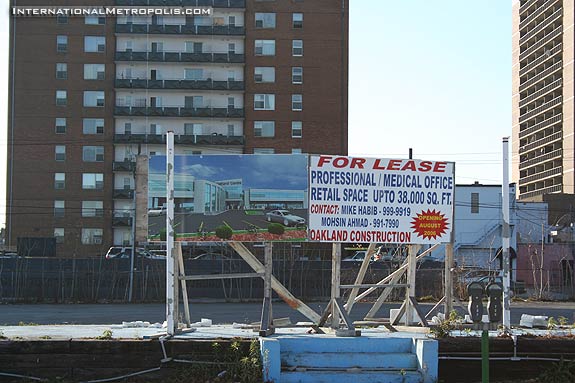 There were large signs with renderings up on the property. The sign already claimed "OPENING AUGUST 2006". Three months before the article ran in the Star.
This was the article that ran:
Offices slated for site in core

Dave Hall, Windsor Star
Published: Saturday, November 18, 2006

Redevelopment of two properties on Goyeau Street which once housed the former Central Chrysler Plymouth dealership will help revitalize a largely neglected portion of the city core, says the executive director of the Downtown Windsor Business Improvement Association.

Located at the eastern edge of the DWBIA boundary, the projects "are positive developments and a sign that there is considerable interest in bringing new business downtown," said Judith Veresuk.

"And the fact they are filling in and improving vacant properties is also a good sign," she added.

A property at 785 Goyeau, which housed the dealership's display lot on the west side of the street, is being developed as a $6.5-million two-storey, mixed-use commercial building by Maher Investment Group Inc.

Maher spokesman Mohsin Ahmad said he expects construction will start next month.

Ahmad said his company has already reached an agreement to bring a pharmacy to the development along with a number of doctors' offices and hoped the rest of the building would be filled with other professional offices.

Ahmad said the building would be largely glass-fronted and a "nice addition to the neighbourhood which needs to see new development. We'll also have more than enough parking which most downtown developments don't have."

A property directly across the street at 790 Goyeau, which housed the dealership's sales offices, showroom and service bays, was recently sold under a Superior Court of Justice vesting order to 679711 Ontario Ltd and is being demolished.

The sale price, which included three other properties in LaSalle, was $1.8 million.

Mario Forte, who is listed as one of the numbered company's officers, was unavailable for comment Friday on his plans for the property.

© The Windsor Star 2006
The lot is marked in red. That's Goyeau to the right.
So Mohsin Ahmad, what happened? "Next month" according to the article would have been December 2006. As you can see the only thing that has changed is that the sign is knocked over. No sign of any construction. 🙂
I'm kind of glad it didn't happen, the last thing that is needed in a urban core setting is another new building with a sea of parking out front.