Back in May, we paid a visit to the corner of Lincoln & Cataraqui to talk about the demolition of three houses on Lincoln Road.
I got a call Thursday night from my dad, who gave me the heads up that the garage has met the same fate…
Looks like somebody has assembled themselves a nice little parcel of land in Walkerville… It is a pretty big footprint though… I wonder what's planned? Apartment building? Parking lot for the church to the east? Anyone out there heard anything? M.O.M. usually has his ear to the ground, maybe he knows something..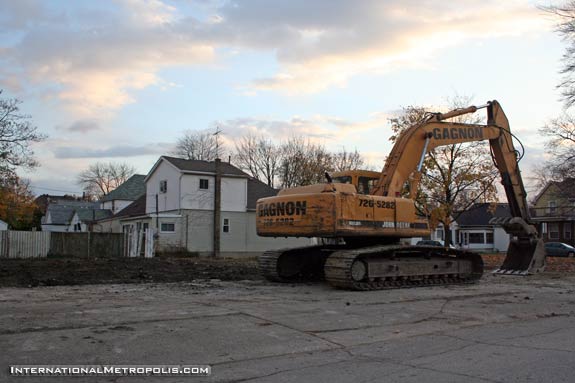 It's sad to see another part of Windsor's past bite the dust. Some may argue that is was nothing special, or that it was only used for storage, however there are very few old service stations still around in this town. We saw one last year, but the few that were still standing from the 20s, 30s & 40's have most been demolished or altered in the last five or so years…