A beautiful day Saturday morning was perfect for Walkerville's Jane's Walk. Mita Williams, was a perfect host, and while Chris Holt and myself helped with the brainstorming, and spreading the word, really this event was Mita's idea, and her drive is the reason it happened. Thanks Mita!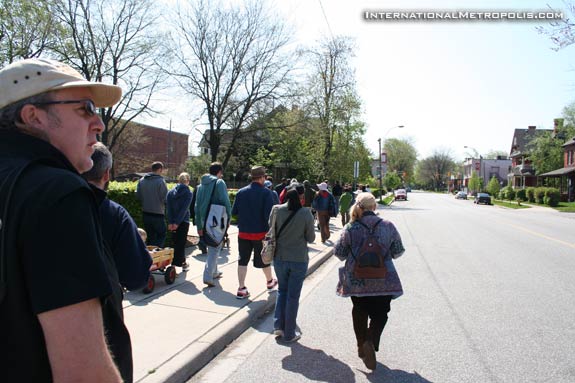 The group heads south along Devonshire…
We walked past and saw examples of adaptive reuse…
The old Walkerside Dairy buildings…
…and past the row houses, where a new resident to the area opened up her row house, and allowed the group to poke their heads inside…
… We also saw some beautiful stucco…
… and ended up in front of the last Peerless Ice Cream store. It was a great time, with a great turn out, and a nice walk through one of Windsor's nicest historical areas. Hopefully next year we have a few more volunteers and a few more tours…
Thanks to everyone who made it out, and again thanks to Mita for making it happen.