Today's entry comes as a suggestion from long time reader Barbara, who told me that she often drives down University on her way to work, and has always noticed these two older houses on California, just south of University. The one on the east side of the road has recently had the windows on the lower floor boarded up.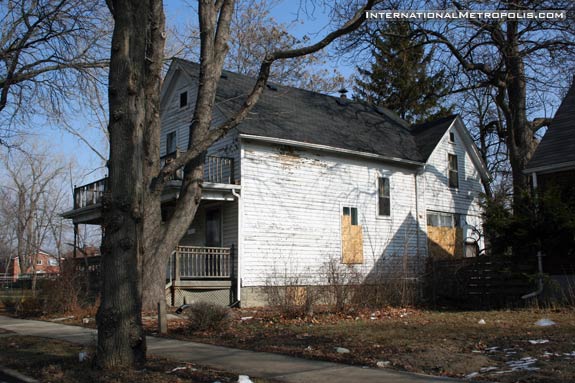 Hopefully it isn't destined for life as a parking lot, but given its proximity to the University, and the U's love of surface lots, it's probably likely. I don't have much information about them. From looking at them, I would guess this one to be from around 1900. The 1923 directory lists two tenants:
Jas. Cassidy was listed as a watchman with the Michigan Central Railroad.
Chas. Cassidy was listed as a mechanic working at the Ford Motor Company.
Not sure if they were father and son or two brothers…
Across the street on the west side is this house. This would I would guesstimate to a little older, probably dating from around 1890 or so.
The 1923 directory lists Malcolm Dunlop, no job given, as being the tenant here.
A little glimpse back into old Sandwich, hopefully they don't end up as black top.
Thanks for pointing them out Barbara.