I got an email from reader Mark F. who asked about the band shell at Jackson Park, that's tucked behind Windsor Stadium.
You can see it in the Google Earth Map above.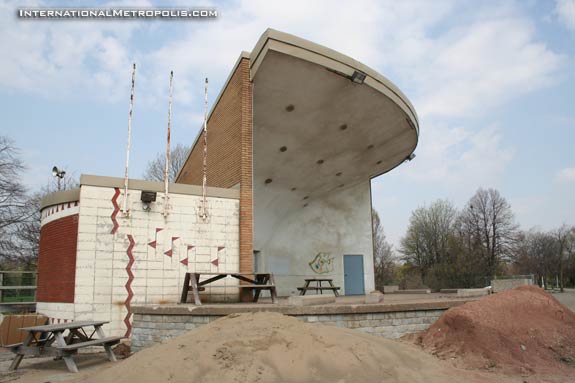 I dug into the history of the band shell, while working on the Windsor Modern book.
This band shell was built in 1959, and designed by Windsor Architects Johnson & McWhinnie. It replaced an earlier band shell that was destroyed in a fire in 1957.
Today the structure sits unused, and covered in graffiti. The doors on the stage are welded shut, and the area around the stage is used as a storage yard by Parks & Recreation.
There are some interesting musical decorations flanking the sides of the stage.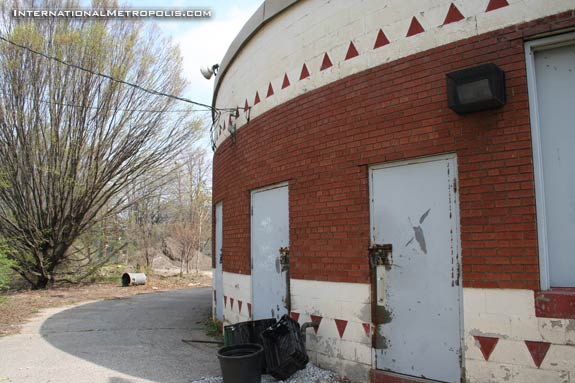 The back of the building reveals several doors. For loading instruments, maybe dressing rooms or washrooms?
The building was built very close to Windsor Stadium, and I am assuming that when the west grandstand was built, it blocked the band shell, and rendered it obsolete. It's too bad, because if there's one thing we're short of is outdoor musical venues… Unless you like the blacktop parking lot feel of the festival plaza…
More of our history siting neglected. This time as a storage yard. Jackson Park used to host Motown acts, I wonder who graced this stage?
Anyone out there have any memories of this place when it was in use?