Early Saturday Morning, the old factory at the corner of Walker Rd and Richmond St. beside the Beer Store, most recently home to the Flag Depot went up in smoke. This view is looking east from Erie and Parent.
By the time I got down there about 7:45, the fire had already been underway for 3 or 4 hours. The entire area was roped off.
A view from Ontario St. looking north on Walker. I'm sure any long time Walkerville resident remembers the McDonald White fire in the late 80's early 90's causing the evacuation of the area.
Looking east along Richmond towards Walker Rd.
This shot just goes to show you that living next to a fire station doesn't ensure your safety. The blue roof belongs to Fire Station #2. The fire was literally 100 feet from the front door of the station.
A few follow up photos from Sunday morning.
The bulldozers were at work removing the shell of the building. Another prominent vacant corner along Walker Rd. in old Walkerville.
A view along the side, shows how close the building was to McDonald-White. A great job by the fire fighters to keep this fire from spreading next door.
A shot from 2006 looking along the Richmond St. facade towards Walker Rd. Long time Windsor business Frank's Tires, was also located in this building, having moved a few years ago from their location at Wyandotte and Parent.
A view of the Fire Insurance Map from 1937, showing the building as being home to the Universal Button Co. A look though the material I had on hand, shows them in that location as far back as 1919 (the oldest Directory I have available), and likely much earlier.
I think they were still in business in that location when I moved to Windsor in 1989, probably into the early 1990's at least.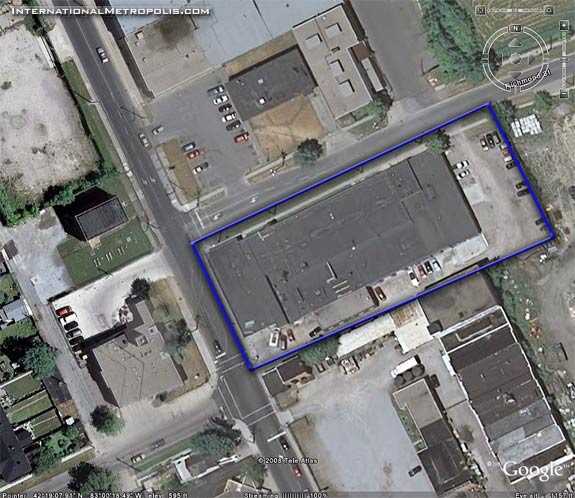 A view from Google Earth, when compared to the Fire Insurance Map shows the office along Walker Rd. received some reconfigurations over the years. Looks like the building was attached to the plant, and maybe shortened, although the Fire Insurance maps weren't always 100% accurate when it came to the actual footprint of the building.
A pair of photos that were sent along by regular reader Ian Deck. Ian came across the site Saturday afternoon. A view of the corner of Walker and Richmond following the fire.
A view looking north on Walker from Richmond.
Thanks Ian for sending along the photos.