Day one of the Air Race brought about a huge disappointment as high winds forced the cancellation of the qualifying round.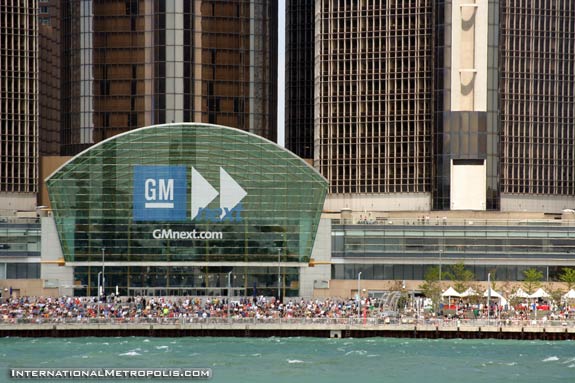 Huge crowds along the Detroit…
…And Windsor riverfront were estimated at about 750,000
Despite the cancellation of the racing, the crowds at day one were treated to a small air show. The Red Bull Grumann Albatross amphibious flying boat. There were 466 built between 1949 and 1966.
The Canadian Harvard Aerobatic team.
The Yankee Warrior from the Yankee Air Museum at Willow Run airport, Ypsilanti, Michigan. This is one of only two B-25 bombers still flying.
More aerobatic flying
Off to day two, and the race is on. This helicopter was used to get aerial footage of the race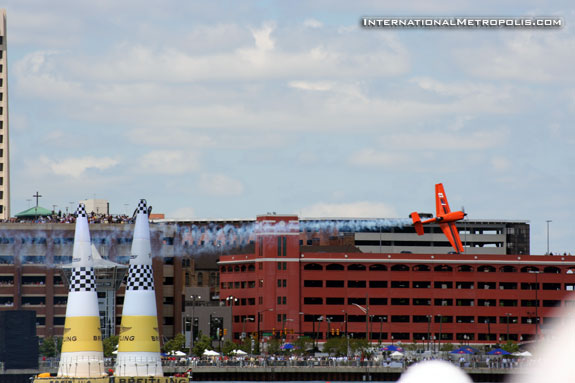 And they're off… Qualification followed by the finals…
We certainly lucked out as we had the more stunning backdrop to watch the race.
This Red Bull plane piloted by Kirby Chambliss, won today's race. Chambliss won the Air Race series championship in 2004 & 2006.
Another shot of Chambliss.
Racing action continues…
The video screen shows Chambliss smiling as the time of his opponent in the final leg, was not good enough to win, and Chambliss is declared the winner.
The show was closed out with another flyover from the Canadian Harvard team.