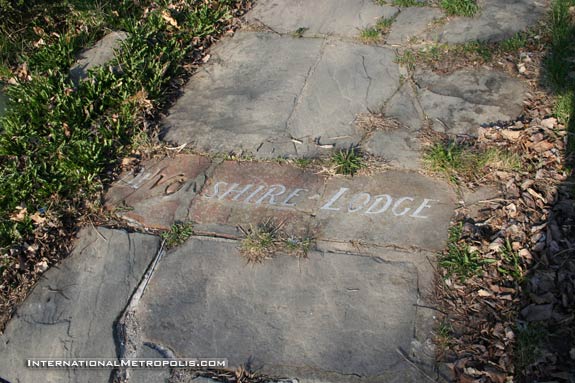 Yup, Devonshire Lodge, that's the official name of what's better known as the Low-Martin House. Built in 1928 by Infamous Rum Runner Harry Low, this house is without equal in the city. It is the only remaining Rum Runner's mansion, the others all fell to the wrecking ball long ago.
The architect of the property has never been discovered, but it was built by George Lawton, of Lawton Built Homes, a large contractor in the Windsor-Walkerville area in the 1920's and it is presumed that he may have designed the house for Low.
Low only lived in the house a few years, and like most Rum Runners, ended up squanderinglosing his fortune. [Edit for clairty (sorry Bruce) – Mr. Low lost most of his fortune in the stock market crash].
In the late 1950's the house was purchased by local political Paul Martin Sr., and I am sure everyone is familiar with his story. The house remained in the Martin family until the early 1990's when both Mr. & Mrs. Martin passed away.
Today's photos are courtesy of Mr. Vella the new owner of the home, just took possession late last week. Congratulations, to Mr. Vella, and big thanks to him for giving us access to the home. He has a massive restoration project ahead of him, but when it's done, it will be safe to crown Mr. Vella the King of Walkerville (with apologies to the Mayor of Monmouth :))
The house is truly a work of art, and I'm going to let the photos of the place do the talking. There is a bit of plaster damage, but it's not the end of the world. You might notice some traces of that in some of the photos.

(Look at that original built in icebox!)
Wow, the woodwork, and the leaded glass windows are outstanding, and that staircase is something else too.
What a beauty, and a diamond in the rough.
Thanks again to Francesco Vella for the tour and we wish him the best of luck as he undertakes this huge project. I'm sure that all the readers here send along their best wishes as well.