So, on to the reason for the Walkerville Theatre being open on Sunday… Walkerville Publishing held an open house, with a great display of Walkerville's history, and the launch of the 2007 Holiday issue of the Walkerville Times.
Chris Edwards the publisher poses beside his local history display. Chris put on this display earlier this year in Willistead Manor during Art in the Park.
Elaine Week, Managing Editor shows off the table of local publications that Walkerville Publishing has released over the last few years.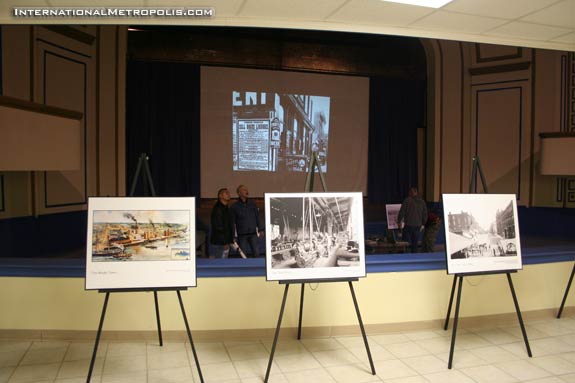 Set up all over the main floor of the historic Walkerville Theatre, the Times' display of historic photographs was a sight to behold. It's a shame that they went from publishing bi-monthly to once a year.
Be sure to look out for the current edition of the Walkerville Times, if you are having a hard time finding one, they are available at the Walkerville Publishing offices 420 Devonshire Rd in the old Post Office. Make you you check out the article on a certain someone's exhibition on Modern Architecture that got the coveted "centerfold" position…. 🙂
While you're down there at the offices picking up your free copy of the Walkerville Times, be sure to check out the great deal on the local history books. The Best of the Times, and Postcards from the Past, buy them individually or get them both as a package for only $50.00. They make a great Christmas gift for the local history fan on your list, or even for yourself… Browse around their little shop. There are all kinds of interesting items available for sale.