The latest victim in the area's demolition spree comes on the south side of the River this time.
On Howard Ave. in Windsor, near Tecumseh Rd. the old Champion Spark Plug factory is coming down. Built in the 1930's and expanded some time later, the old Saw Tooth Building is meeting the wrecking ball after sitting vacant for several years.
The photo above shows the factory and offices in the 1940's. Note the flagpole.
After all these years, the original flagpole is still standing on site.

A view of the front of the building along the Howard Ave. side.
A view along the Hanna Ave. side where demolition is progressing.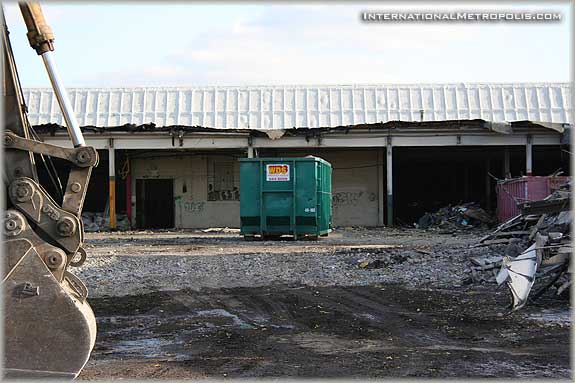 You can see into the factory portion, the windows on the saw tooth have been long blocked out.
The building eaters on site are munching away.
More of our history is being demolished without so much as a second thought. It's sad that our industrial heritage is so quickly forgotten.
The old loading docks on the north side of the building. Expanded from the original photo.
The windows on the south side of the building received the same white out as the saw tooth.
An old rusted sign reads:
10 MPH
MAX SPEED
IN YARD
_____ & ______ LTD. The remnants from the last tenants.
It stayed industrial until the end. It was a screw and bolt factory until about 3 or 4 years ago.
It has been vacant since and heavily vandalized. Another link to our fading automotive heritage bites the dust.