Off to Erie and Ouellette today for a visit to the 1922 Masonic Temple, designed by Windsor architect J.C. Pennington. The building is a desdignated historic site in the City of Windsor.
A big thank you is owed to regular reader Kevin who was gracious enough to open the Temple up for us to visit and share with the readers of International Metropolis.
A view of the marble lined vestibule.
A view of the lobby area of the temple.
The famous ballroom, this romm has seen many events over the years, everything from weddings and dances to rock shows, including infamous Detroit rockers the MC5 in 1971.
A detail shot of the beautiful plasterwork in the ballroom.
Amazingly the kitchen still sports the orignal 1920's era stove.
The lounge for the blue room.
A view of the large blue meeting room.
A panoramic view of the meeting room from the balcony.
A view of the seats and cast iron sides.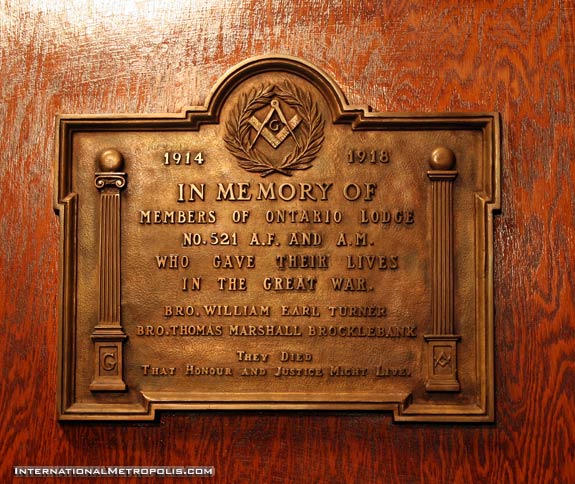 A bronze tablet dedicated to local masons lost in WWI.
The red room lounge. The Windsor Masons, have done a superb job in here creating a small museum of local masonic memrobilia.
A view of the smaller red meeting room.
A detail shot of the decorative plaster ceiling brackets.
A view of the large chandeliers and ventilation grate.
Even the hallways sport vintage fire alarms.
Next time the Temple is on the Doors Open tour, get down there and check out this under appreciated local architectural treasure.