So again, back to Ouellette and Elliot… Sorry, for featuring the demolition again, but I find the method of demolition of the structure interesting. Plus it's a way for readers who don't regularly get downtown to check in on the "progress" (and I use the term loosely, as there is nothing progressive about demolition). 🙂
Next week, we'll get back to some other topics, as well as probably checking in here at least once…
A view through the missing front doors gives you a look at the building eaters…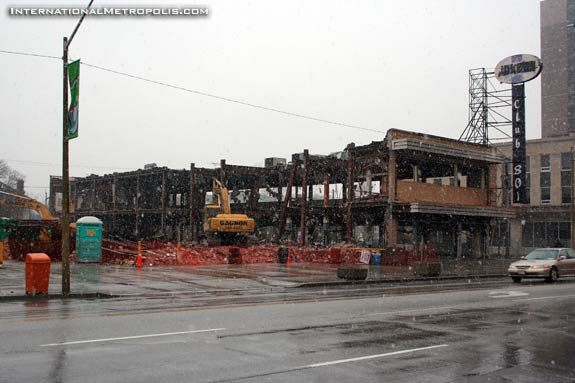 Looking at the south side of the building, the structure is starting to waste away.
As an interesting side note, I'm not sure if someone at Canada Post reads this site or not, but I noticed the mailbox was moved to the west side of Pelissier today.
As a bonus for putting up with the same subject for most of the week, above is an old postcard from the mid 1920's of the Cenotaph when it was located at Gilles and Ouellette…
Have a good weekend, see everyone on Monday!