The end is coming for one local landmark, and the end is now confirmed to have come and gone for another…
First up are a series of three photos from Darren, who sent along yesterday's progress on the scrapping of the Ford Casting Plant.
Comparing it to the last set of photos, they are really making progress…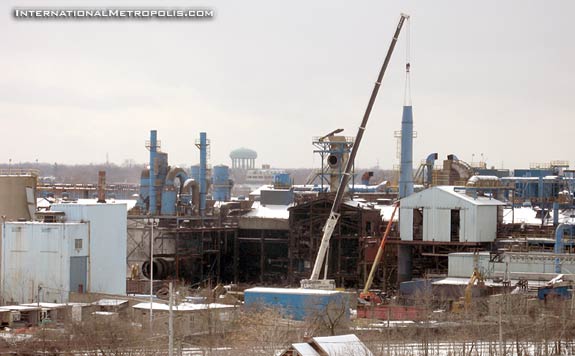 The big stacks are now being attacked…
By the end of the day the stack was gone…
CRASH! … I'm sure whatever is in that dust is good for you… 🙂
Thanks for the updates Darren
-o-o-o-o-o-o-o-o-o-o-o-o-o-o-o-o-o-o-o-o-o-o-o-o-o-o-o-o-o-o-o-o-o-o-o-o-o-o-o-o-o-o-o-o-o-o-o-o-o-o-o-o-o-o-
Back in September I had a post on the old liner Aquarama, who spent many years berthed in the west end rotting away.

Postcard above from the John Setfani collection
Peter Hartung from Germany, had been keeping us updated on that thread with news from overseas.
Selim San, from Turkey sent him the sad photo above of the Aquarama being scrapped this past November in Turkey. She's long gone and nothing but scrap metal now.
Thanks to Peter for keeping us informed of the status of the old Girl…

Danke Peter für die Nachrichten.
There are more photos of the scrapping, as well as some great old photos on this forum here (text is in German – but the photos are worth the visit):
http://www.forum-schiff.de/phpBB3/viewtopic.php?f=2&t=254&p=3385#p3385