Back before Christmas, there was a post on Cody Hall, and in the comment, the discussion turned to McPherson Lounge in Electa Hall. Today's photos come from regular reader westerntragedy, who visited McPherson Lounge, and happened to have his camera. 🙂
As a side note, westerntragedy runs the excellent photoblog Windsor Visuals. A big thanks goes out to westerntragedy for sharing his photos here, based on our earlier discussion. Be sure to check out his work…
McPherson Lounge sits atop the addition on Electa Hall, which was built by the Windsor firm of Johnson & McWhinnie in 1962.
A view of the rear of the building, the outdoor terrace is visible.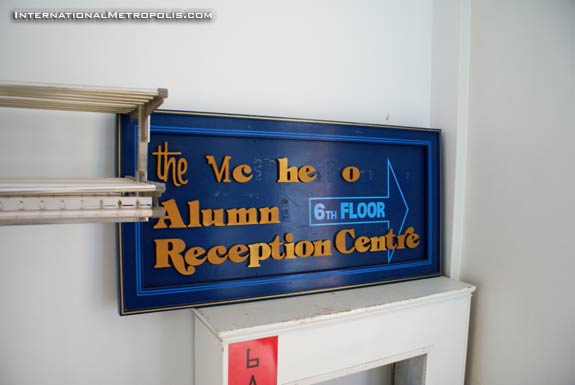 An old sign pointing you towards the elevators.
The locked double doors to the vacant McPherson Lounge.
The Bar
A view of the lounge, what a great space. elevated with Windows on both sides. It's unbelievable that this place is vacant.
An old photo of the lounge when it was a happening place.
The view from the kitchen windows, overlooking the campus.
A view of the bridge and the now rotting outdoor deck.
The view overlooking downtown Windsor and Detroit.
A podium with the old U of W logo.
A dated solid wood ceiling light.
A private club room in the back. Now used for meetings of the University Student Association.
A photo of the class of 1937, of which Leon Z. McPherson was a member. The lounge presumably closed in November of 1993 2003, when a new McPherson Lounge was dedicated at the new Alumni Hall and Conference Centre on Sunset Avenue.
Again a big thanks goes out to westerntragedy for these shots.