As I promised last Wednesday, here is part one of my Brighton Beach photos over the last six years.
The old Bronson's Tavern. Formerly the Westwood Hotel, it once hosted Al Capone during the prohibition years. Originally the building was set back against the river, but was moved to the Sandwich St. location in the early 1900's. In later years it was a regular watering hole for employees of the Salt Mines. It was burned to the ground in an act of Arson in 2003.
This interesting house (above) and garage (below) were located on Water Street. When I first shot the house in 2001 it was vacant. I planned on returning to the house the following weekend to shoot it again, and poke around the inside, as I wasn't really dressed for exploration at the time.
When I returned, I was too late. The Brighton Beach Arsonist had already struck, turning the house (above) and garage (below) to charcoal. In the top photo, the house visible to the rear was a strange one. Among the piles of junk on the property there was also a horse. The first time I've ever run into a horse in someone's yard in the city.
Another strange one, this house was on Broadway.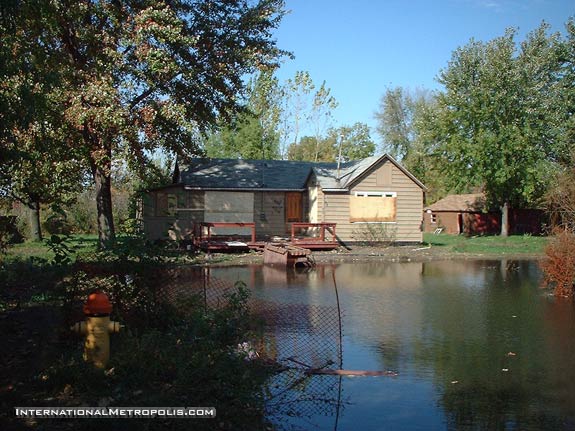 This house featured a lake in the front yard. It was part Duck pond, part broken water main.
The interior was heavily vandalized and stripped.
Another victim of the Brighton Beach Arsonist, 2001.
A great old house that met the wrecking ball back in 2001. This one was between Sandwich Street and Ojibway Parkway.
This street scene could be anywhere in rural Essex County, hard to believe that this dirt road was inside Windsor City Limits.
An old service station, on what was once the main road between Windsor and Ojibway.
The elements have taken their toll on this building.
Old telephone poles hold street signs for streets that no longer have any residents, as nature tries to reclaim what was once wilderness.
More tomorrow…