Last week I took a drive out to the sprawled out mess at Walker and the 401. My reasons were two fold.
1. I was trying to get a few shots to display at the Check Out This Sprawl exhibit, and…
2. I wanted to see what all the crying was about, although I must confess I feel little pity in my heart for those who build/buy a crappy cookie cutter house hard up against a highway. I think you get what you deserve…
Anyway, on with the show!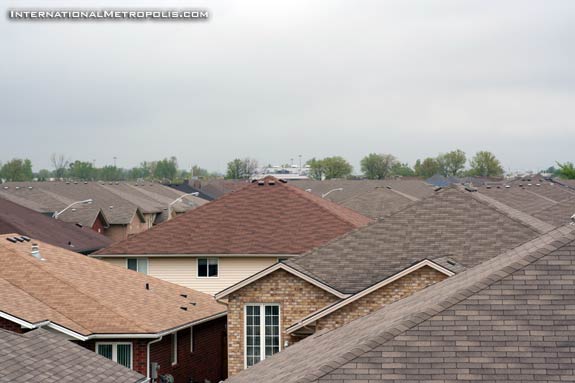 Crammed in like sardines.
This is living. I heard it compared before, how street in new sub divisions serve the same purpose alley's did for old neighbourhoods. A place to park you car, put our your trash, and access to your garage.
Every street looks the same. Seriously.
Yay! Triplets!
Seriously?
Yup. Unicorn Street. I would be embarrassed to tell people I lived on Unicorn Street.
Here's someone with a nice view of the machinery rebuilding the 401. Three cars too… A pickup and an SUV. Glad I don't have that gas bill.
Garages with attached houses. The landscaping might look like crap, but at least they got that fancy stampcrete driveway installed.
I know it all comes down to personal preference, but I couldn't live in a place like that. I like the fact that I can park my car on the weekends, and walk and/or ride my bike wherever I need to go.