As Italy prepares to face off against France in Sunday's World Cup final, here is a photo tour through Erie Street, Windsor's Little Italy.
The light pole banners welcoming you to Little Italy.
The east end, many blocks east of the restaurant district is a little rougher around the edges.
There is even a very small section of housing remaining at the east end of the street.
There are a few residences that were adapted to commercial uses.very early on. This conversion dates back to the 1920's.
There was a large boom. Many of the structures that haven't suffered the modernization of stucco or stone, show their heritage from the pre-depression boom years.
One of the more popular cafés.
Many Italian names remain despite the recent influx of Middle Eastern & Albanian businesses.
A little oasis tucked in beside a lawyers office.
As immigrants from Italy started to settle in the area in the inter war years, the population boom required the building of large scale tenement housing.
To this day Erie St. is home to the only Vice-Consulate in the City of Windsor. Home to an envoy from Italy.
Kurley's A.C. This used to be the favorite meeting place of former Windsor mayor Mike Hurst. Both Coleman Young & Dennis Archer had lunch with Hurst at Kurley's.
La Stella one of the last of the old time neighborhood supermarkets.
Gambini Jewelers
Mike Vonella has been a tailor for over 50 years, and is one of the last master tailor's in the area. He has many clients across North America. http://www.vonellaclothing.com
A view along the Restaurant Row.
An Italian Deli. Erie Street offers local Italians all they need.
There is even the required outdoor patio seating.
Storefronts long ago obscured and surrounded the house trapped in the middle.
The Heart of Erie Street.
Built in 1939, St. Angela's was designed by Windsor architects Pennington & Boyde. The church still draws large crowds every Sunday.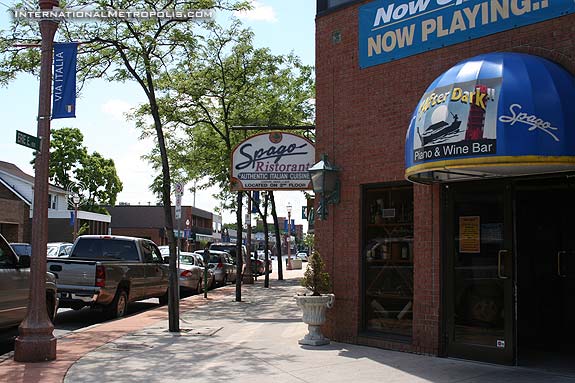 Spago is one of the districts most popular and well known restaurants.
Finally as everyone knows, Italia Bakery is the place for baked goods in the city. Stop by and check it out next time you're headed to Erie Street for dinner.