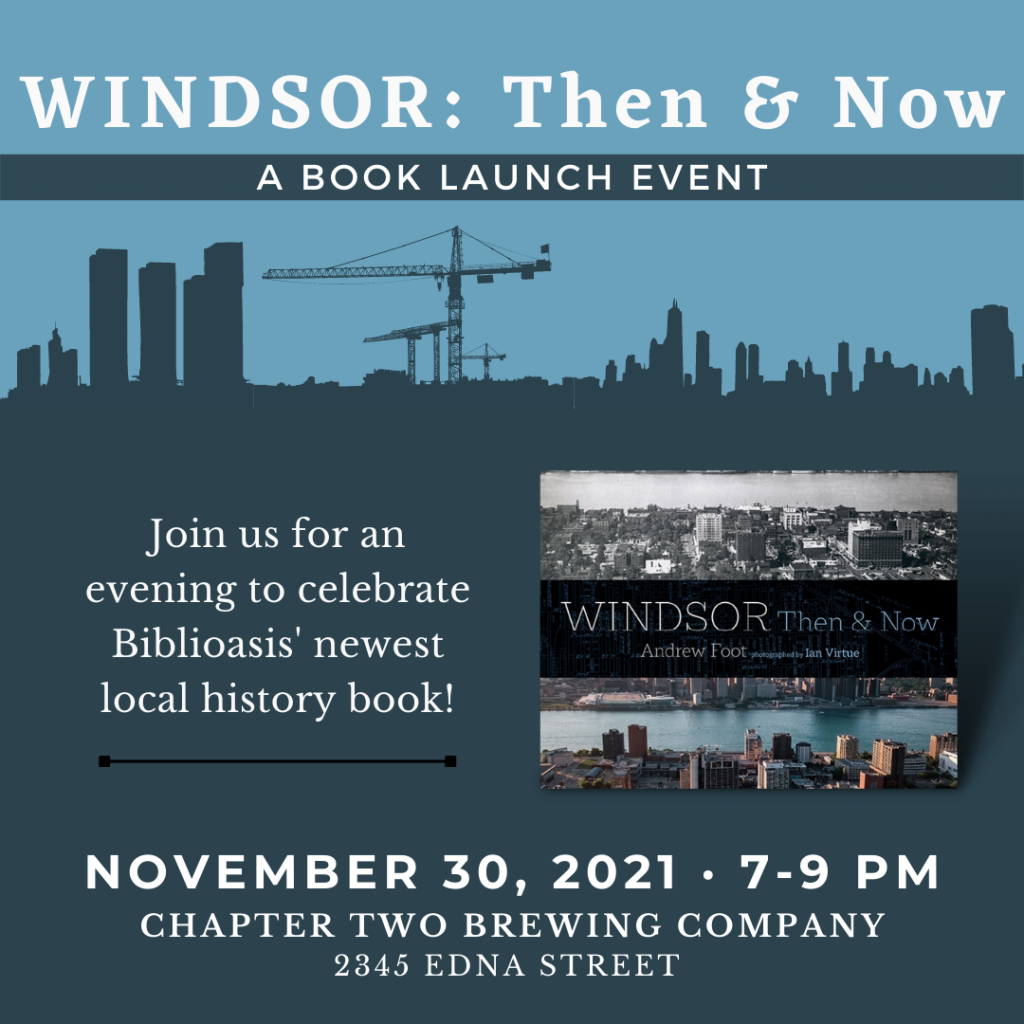 Hello readers! As you know, I have written a book and it's out now. It makes a great Christmas gift too for the Windsor lover on your list…
I'm pleased to share with you that there is going to be a book launch party on November 30th from 7:00 pm to 9:00 pm at Chapter Two Brewery at 2345 Edna Street (just east of Walker Road). If you have Facebook, a link to the event can be found here.
Join us for our first IN-PERSON book event in almost two years! We're excited to be celebrating the launch of our latest history book, WINDSOR: THEN & NOW by Andrew Foot, and photographed by Ian Virtue. Stop by for a drink, pick up a signed copy of the book, and to chat with Ian and Andrew about the process of putting this together.

ABOUT WINDSOR: THEN & NOW:
Windsor, Ontario: the City of Roses, the Automotive Capital of Canada, South Detroit. Whatever name you know it by, this is a city that has flourished and transformed over the years, growing and changing with its industrial nature. In Windsor: Then & Now, architectural specialist Andrew Foot partners with landscape photographer Ian Virtue to explore the life of this mid-sized, blue-collar town through photographs. By contrasting historic images, stretching from the turn of the century to the modernist 1970s, with photographs of today's Windsor, we see a cityscape in vivid relief. From the Gothic towers of St. Mary's Academy, levelled for a suburban neighbourhood, to the vibrant downtown Norwich Block replaced by the skyscraping Chrysler tower, Windsor: Then & Now shows us a city balancing a rich heritage with a taste for the new—a constant flux, shifting and renewing itself with the times.

ABOUT ANDREW FOOT:
Andrew Foot is Windsor's leading architectural historian. He has documented the built history of Windsor and Essex County online for the past two decades. Andrew exhibited twice at the Art Gallery of Windsor, and published a companion guidebook to one of the exhibitions entitled Windsor Modern. Andrew has been actively involved in the preservation of Windsor's heritage since 2004 as a volunteer member of the former Windsor Heritage Committee and currently as a member of the Heritage Standing Committee. His research on local architectural history can be found online at internationalmetropolis.com. He enjoys travelling and taking in architecture and culture around the world. Andrew lives with his wife in Windsor.

ABOUT IAN VIRTUE:
Ian Virtue is a landscape and commercial photographer based in Essex County. He and his camera have travelled the world, capturing the mountains of Nepal, the rolling wildness of Canada's west, the beaches of Thailand, and more. You can find his photographic rediscovery of his hometown during the COVID-19 pandemic at ianvirtue.com/the-windsor-project. Ian also works with Arctic Basecamp, a climate advocacy organization focused on speaking science to power. When Ian isn't out taking photos he can be found in the kitchen making home-cooked meals, hiking, or enjoying a glass of wine on Pelee Island with his fiancée Katie.
Hope to see you there! Please keep in mind that this is an indoor event at a licensed establishment, proof of Vaccination is required to attend.