I hope everyone had a nice holiday. Over the long weekend I had a chance to take a trip with John & Bernie up to the Halton Radial Railway Streetcar Museum.
A vast majority of the cars came from the TTC, but many were similar to the cars used in Windsor and Detroit and countless other cities across North America.
First up was this 1951 vintage car from Toronto.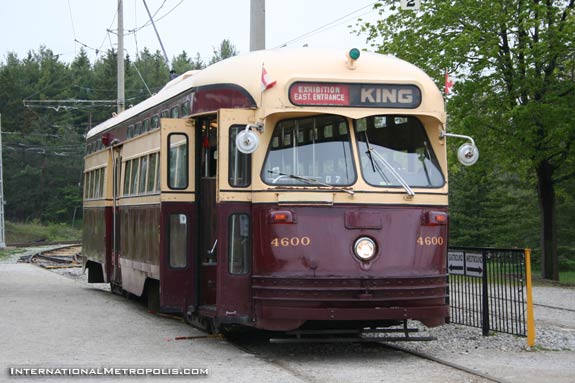 Built in Montreal by the Canadian Car & Foundry, it was acquired by the museum in 1996, upon its retirement.
Watch your step…
Sadly the interior was modernized in the 1970's or so.
But still a very cool car, the PCC Car is a classic in the world of streetcars.
This vintage 1921 Peter Witt car, is still not completely repainted. It was an extra in the movie "Cinderella Man" a few years back.
An interior view of this classic.
A shot of the car on the circuit.
Replica of original car 327 built by the TTC for Toronto's centennial in 1934. Truck & components salvaged from original #327, built in 1892.
This Peter Witt car was built in 1923 and retired by the TTC from regular service in 1963.
A view of the Rockwood train station. Built in 1912 for the Grand Truck Railroad. It was moved to the museum in 1971.
An interior view of the station.
There are many cars in the collection, several awaiting restoration.
Remember this one from a few weeks ago? S.W. & A. car # 212
Yup… That's her, # 212 today, acquired by the museum in 1990 after spending better than 50 years as a cottage…
A shot of the former Montreal & Southern Counties Railway interurban car.
An interior view of the 1912 car.
This Toronto Civic Railway car was built in 1915 by the Preston Car Company.
An interior view. This is one of the few remaining Preston built cars.
Looking up in the car barn there are all kinds of historical plates and signs from other rail systems, even an old plate from our S.W. & A.